Descrizione
VocalSynth 2 permette di migliorare le proprie tracce vocali
Grazie a VocalSynth2 potrai ottenere velocemente il sound old-school che stavi cercando ( o crearne di nuovi).
Sentiti libero di perderti in layer, effetti, morphing, textures e tanto altro per un effetto vocale più particolare, trasformandolo in una traccia finalmente in grado di emergere.
Potrai scegliere cinque effetti da mescolare o scegliere direttamente tra centinaia di preset per un impatto veloce.
L'evoluzione della voce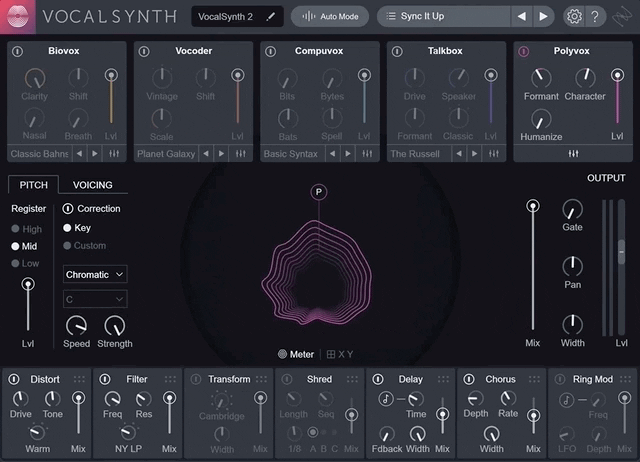 Vocal Synth è lo strumento di iZotope che permette di aumentare il livello della propria produzione vocale. Grazie al suo utilizzo, è facile ottenere rapidamente sia sonorità "old school", sia moderne. Perdendoti in layer, texture, effetti, mescolanze e trasformazioni sonore in un terreno di sperimentazioni sonore vocali, avrai la possibilità di trovare quel qualcosa in grado di far emergere la voce. E possibile scegliere e mescolare cinque strumenti vocali o selezionare uno tra le centinaia di preset per un impatto più veloce.
Biovox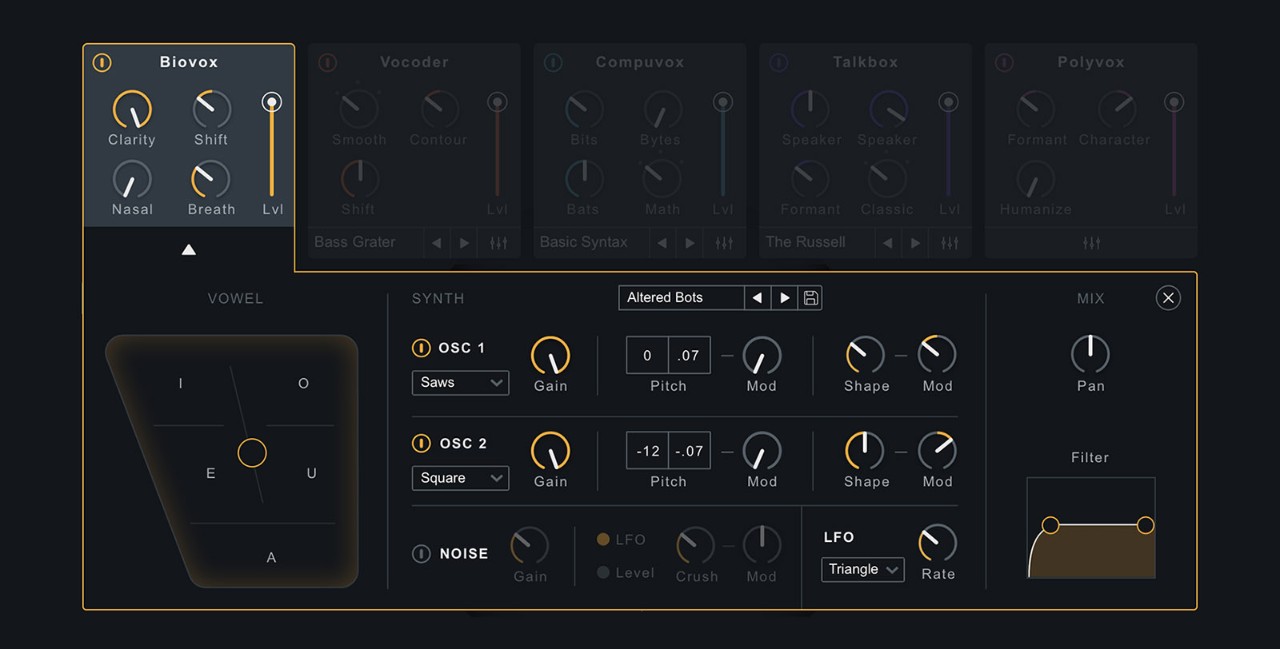 Con BioVox è possibile creare e manipolare le caratteristiche naturali della voce. Con un modeling scientifico, è possibile modificare caratteristiche come nasalità, sfumature vocali e formanti. Si può utilizzare in maniera chirurgica per migliorare le tue produzioni ma anche per generare effetti creativi e cambiare completamente la voce.
Utilizza il "Vowel control" impartire delle caratteristiche sonore alle vocali. Utilizza le per aggiungere eccitamento alle tue performance vocali, trovare spazio per le backing vocals nel mix e aggiungere un'intensità vocale incredibile.
Con i controlli Breath e Nasal è possibile cambiare la performance della voce aggiungendo più "respiro" o rendendola più nasale.
È possibile applicare Pan e filtri al segnale processato con controlli avanzati di synth e mix, utilizzando anche dozzine di preset e combinazioni di oscillatori.
VOCODER
Il classico "synth parlante". Il Vocoder da alla voce il classico effetto conosciuto in tantissime registrazioni come P.Y.T. di Michael Jakcson, ma con la flessibilità necessaria per poter creare anche qualcosa di nuova. È possibile scegliere tra dieci diversi preset differenti e tre tipi di vocoder, ed effettuare operazioni di fino con i controlli Shift e Scale. Non vedrai mai un Vocoder con tutta questa flessibilità!
Esplora nuovi mondi di sonorità robotici con questo potente vocoder: facile da impostare e dotato di tanti preset, è semplice da utilizzare per ottenere dei suoni corposi.
Le modalità Smooth, Vintage e Hard ti permettono di scegliere con velocità tra un range di suoni di vocoder hardware classici e digitali moderni.
Controlla l'intelligibilità del parlato con il potenziometro "Scale" e "Shift". È possibile controllare il carattere della modalità selezionate, schiarire o "scurire" lo spettro di frequenze e aggiungere articolazioni e presenza con questi tre semplici controlli.
COMPUVOX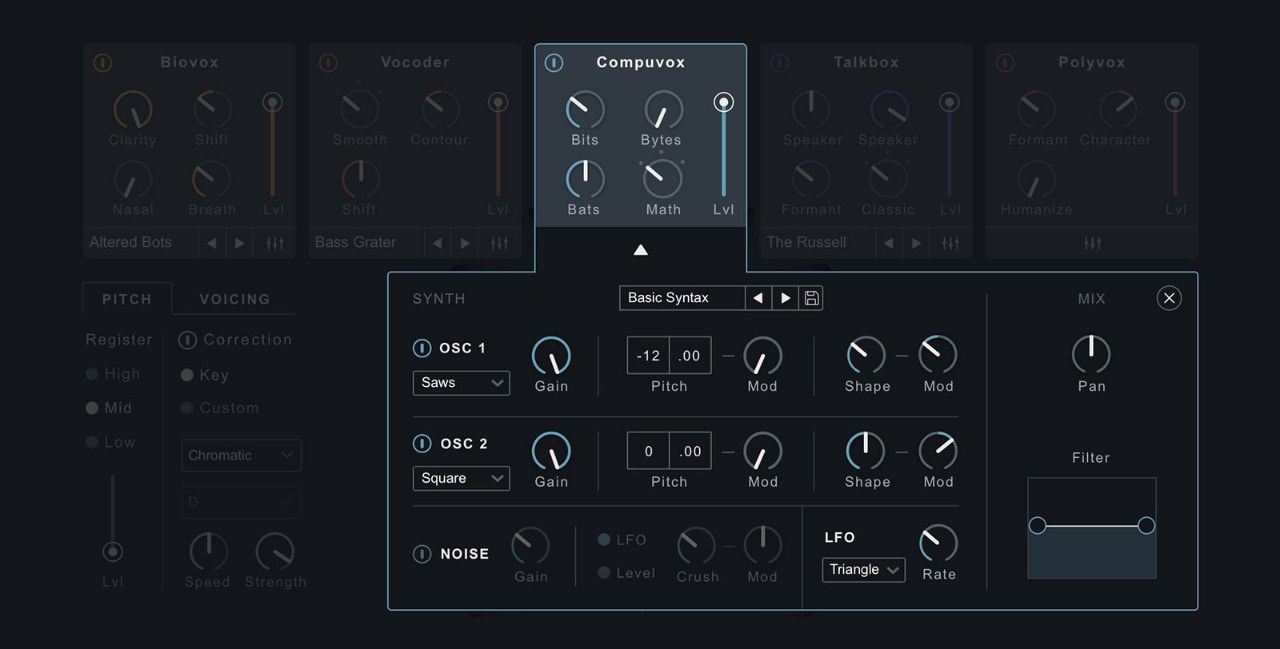 Comunemente conosciuto come l'effetto sonoro dietro "Speak & Spell", Compuvox può digitalizzare, ricampionare e in generale computerizzare il suono della voce. Se usato con moderazione, può aggiungere delle interessanti caratteristiche enarmoniche al suono. Portato all'estremo, questo controllo può ridurre l'audio processato a un livello di caos quasi irriconoscibile.
L'effetto vocale "Computer" nato dopo la nascita dei giocattoli parlanti portatili degli anni 80.
Tre sapori differenti di processamento che reagiscono all'audio in un modo unico: con le funzioni Spell, Read e Math è possibile trovare il giusto tono da abbinare alla perfezione alla voce.
Con i controlli Bits, Bytes e Bats è possibile aggiungere del rumore digitale per "rovinare" la voce prolungando artificialmente i suoni delle vocali, o dando una qualità sonora "ghiaiosa" per ottenere dei suoni più gutturali.
TALKBOX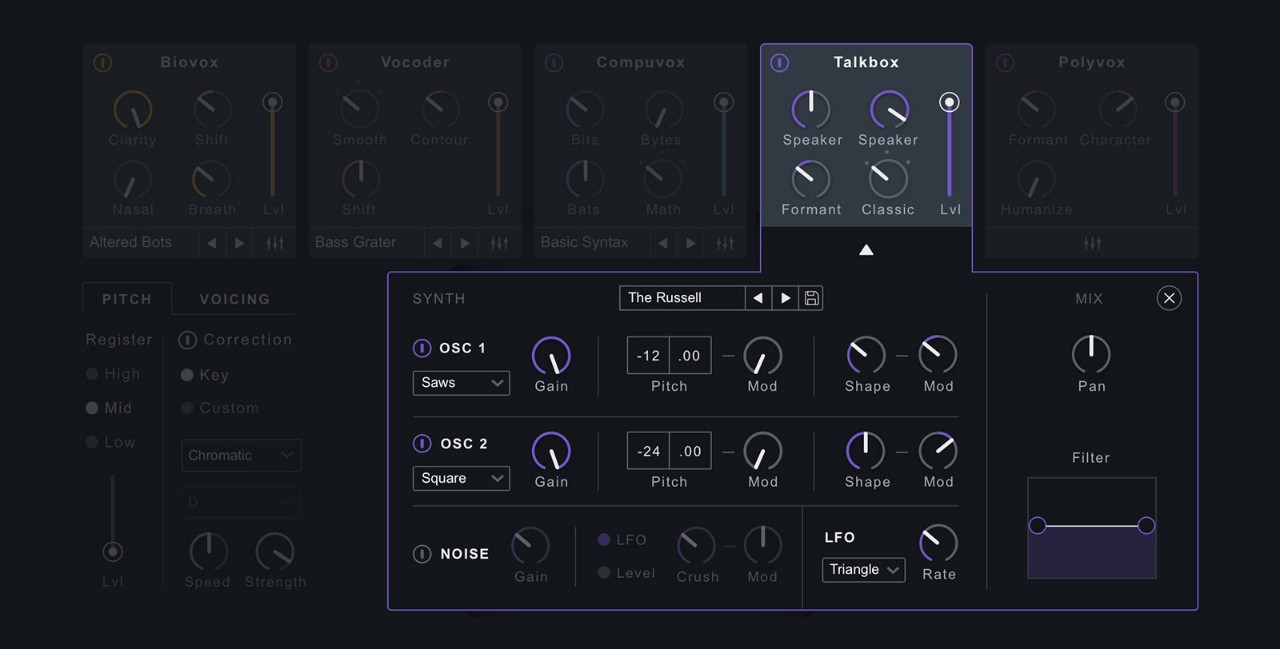 Con il modulo Talkbox è possibile ottenere i suoni più "funk" di VocalSynth, come quelli resi famosi da musicisti come Stevie Wonder, i The Who, Peter Frampton, Bon Jovi, Chromeo, Zapp e Roger e molti altri. I Talkbox reali possono essere degli strumenti effettivamente difficili da gestire ma, con VocalSynth, si può ottenere quel classico suono semplicemente premendo un pulsante!
Come ottenere tipico suono del Talkbox utilizzare tubi in PVC! Il modulo Talkbox permette ai sintetizzatori, o a qualsiasi altro strumenti in side-chain, di "parlare" insieme a te.
Altera la risposta in frequenza del Talkbox con tre differenti modalità: Dark, Classic e Bright. È possibile scegliere tra sonorità più scure, alter più alte e articolate oppure un sound. bilanciato con delle reminiscenze di Talkbox.
Con l'emulazione del cabinet è possibile controllare le caratteristiche fisiche del Talkbox. Ad esempio è possibile aumentare l'input gain per aggiungere un tocco con il potenziometro Drive, o regolare la quantità di carattere dell'altoparlante con il potenziometro "Speaker".
POLYVOX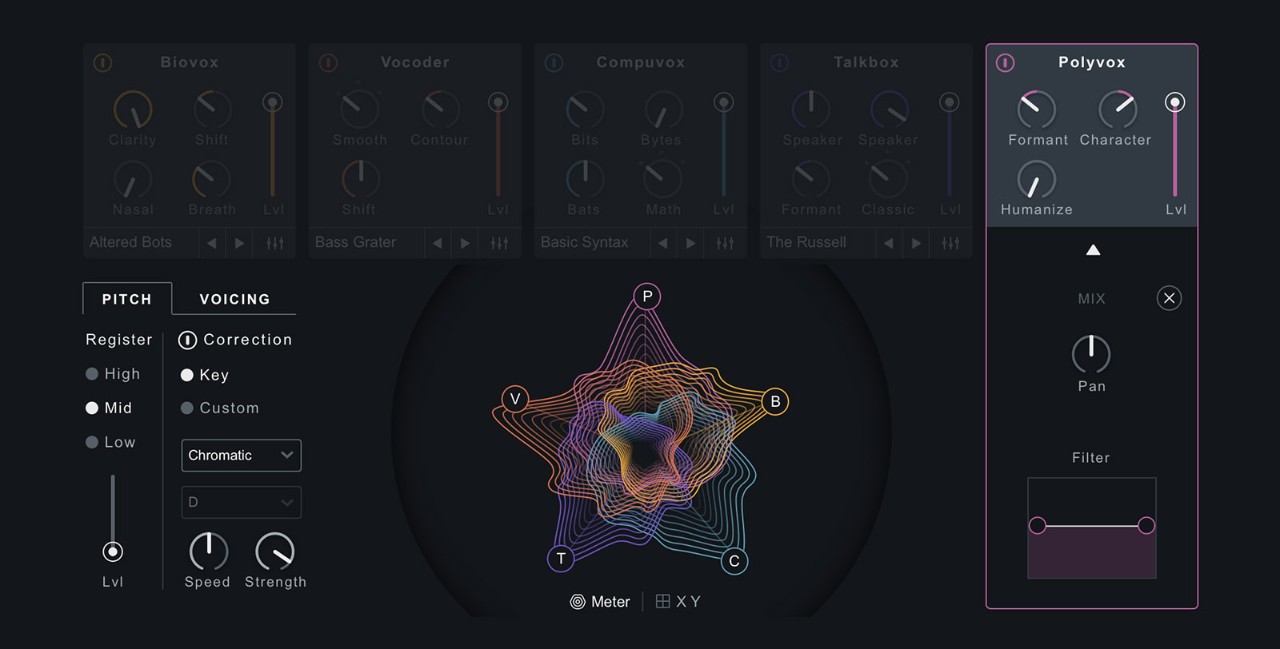 Polyvox is VocalSynth's polyphonic pitch shifter.  Whether you're looking to create natural vocal harmonies reminiscent of a human choir, or the hard-synced, grainy, and computerized harmonies popularized by artists such as Imogen Heap, or even formant-shifted otherworldly sounds, the Polyvox voice generator is for you!
Create organic harmonies built from your voice with this polyphonic pitch shifter.
Give vocals more "oomph" by building a group of backup singers that sound as natural or as computerized as you want.
Add a whole heap of pitch-shifted superhero sounds to your voice.
7 stompbox-style effects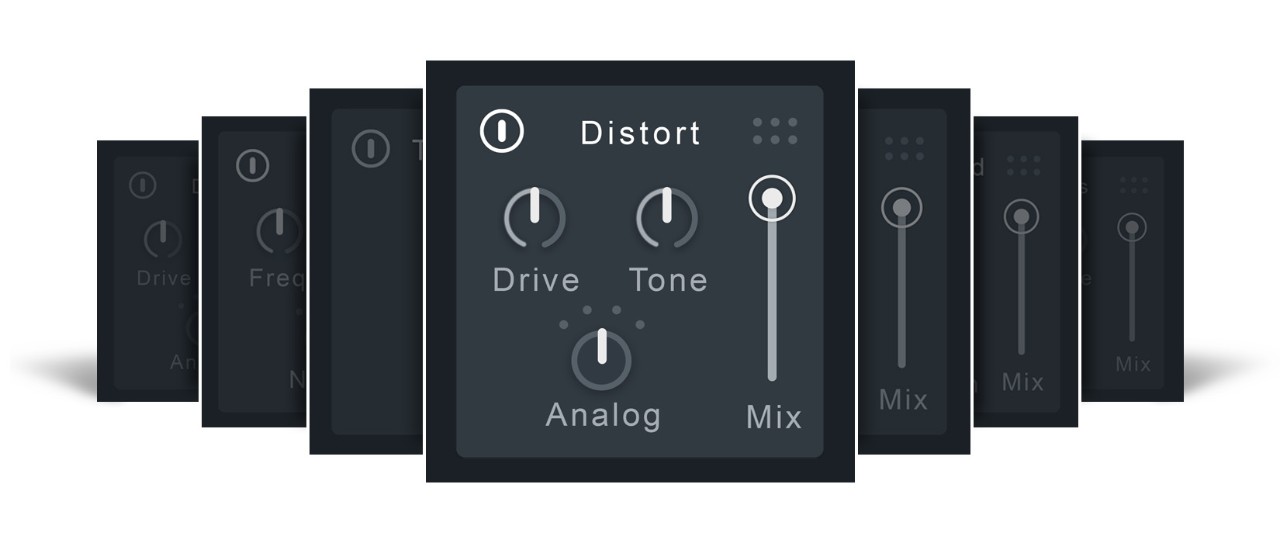 Further enhance your production with a custom drag-and-drop vocal effects chain.  VocalSynth 2's effects section now lets you change the order of the modules!
A wave-shaping distortion with custom tones imbues your vocal tracks with an essential grit, attitude, and perceptual power. The distortion module is great for either subtle overdrive or gnarly, harsh, high-gain distortion. It's loud, it's noisy, it's great.
Choose from multiple waveshapes, from warm and subtle to all-out fuzz distortion.
Customize drive amount with Drive control, and and use post filtering to change the spectrum.
Achieve quick and easy parallel processing with the Dry/Wet control.
Filtering is a simple but effective way of adding character to your vocal. VocalSynth's Filter includes our New York Low-Pass for a warm and buttery 1960s-style 4-pole ladder effect, Scream for resonant filtering and aggressive peaks and overdrive, or the Combo filter that combines both flat High-Pass and Low-Pass filters in a single sweepable control.
Choose from three distinct filter types, each with their own unique characteristics
Combine filtered with unprocessed audio using the dry/wet control
Crank the "Res" knob for even more extreme vocal sounds!
The hand-picked convolution speaker models bring out the full character of VocalSynth. Dial in amp convolutions and speaker emulations to enhance space and realism or find common special effects like telephone or radio voice. Choose the right space for your vocal.
Select from 8 different convolution models: "Reamp" your vocal sound with Oxford, Sterling or Cambridge modes. Give your vocals some classic broadcast tone with Radio or Bass.  Or, explore the mysteries of the forbidden Creep mode!
Control your image in mono, stereo, or 2x super-wide stereo for an amp-stacked, stadium ready sound.
Easily apply convolution in parallel with the dry/wet Mix slider.
The Shred module captures chunks of your audio and and repeats them in interesting ways that add rhythmic range to your vocal-processing arsenal. Shred is now improved in VocalSynth 2 to include all new processing, automatic tempo syncing, and a three step sequencer. Using the step sequencer, you can create incredibly complex stutters to add excitement to your builds, and impart crazy time-based special effects.
Shred's step sequencer uses one of 8 different Euclidean rhythmic sequences to switch between different steps. Each step can be programmed with a different repeat rate, allowing for nearly infinite combinations of shred patterns.
Control how often Shred captures audio with the Length knob.  Set to slower, even time signatures for gradual repetitions, or make things more erratic with uneven meters and super fast buffer sizes.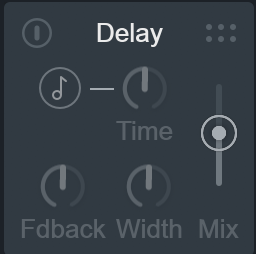 VocalSynth's Delay is a wide stereo delay with just a bit of filtering for flavor. The Delay creates exciting spatial effects with panning movement, great for adding interest to an otherwise steady vocal track.
Sync delay to your host tempo or dial in a custom rate with the Time control
Add width to your vocal track with the Width knob
Find the perfect blend with the dry/wet controls and the Feedback knob
Ring modulation is an effect that multiplies the frequency content of two input waveforms and outputs a new waveform that includes frequency content from both inputs. It imparts a unique, detuned tone to your audio, which can be heard on famous movies and shows such as Doctor Who and Forbidden Planet, and rock albums such as Black Sabbath's Paranoid. Ideal for both sound design and music production, add unique tremolo, extra grit, texture, and creepiness to your audio with VocalSynth 2's Ring Mod!
Manually adjust LFO and Depth controls, or sync Ring Mod to your host tempo for automatic modulation.  The higher the Depth, the more drastically the signal is modulated!
Add subtle texture to your vocal by blending in Ring Mod with the wet/dry Mix knob.
Adjust the timing of the frequency modulation with the Freq knob.  Crank it up for extra weirdness!
New to VocalSynth 2, chorus is a standby effect for vocalists everywhere.  On lighter settings, you can add depth and movement to your sound. Push it to more extreme settings for messier, warbling vibrato tones.  With easy-to-use controls that can add compelling character to your vocal with little to no effort, you may find yourself using it with every VocalSynth track in your mix.
Depth and Rate controls, tuned for vocals, let you gently treat your voice or take it completely underwater.
Crank the Width knob to expand your chorus effect into wide stereo, or turn it down to keep the effect centered.
Blend in your Chorus effect with the dry/wet Mix knob for easy parallel processing, and re-order your module chain to your heart's content!
Interactive visualization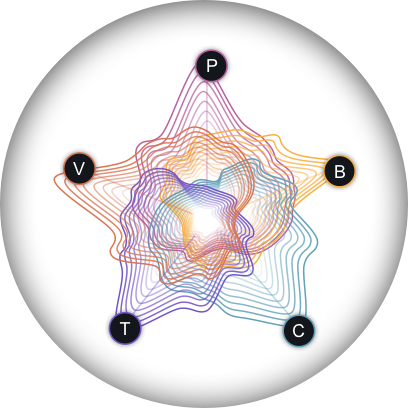 Meet the Anemone, VocalSynth 2's colorful animation that moves and grows with the shape of your audio signal. Driven by an advanced spectral analysis that reacts to the sonic characteristic of vowels, the Anemone blends fun interaction with a unique metering experience.
Inter-plugin Communication
VocalSynth 2 works within the ecosystem of iZotope products through inter-plugin communication. Like Neutron, Ozone, and Tonal Balance Control, VocalSynth 2 allows seamless integration with essential tools for music production and analysis. VocalSynth 2 can be seen within Neutron 2's Visual Mixer and Masking Meter and also within Tonal Balance Control, allowing you to interact and get visual feedback in real time.
Three different modes allow you to interact with VocalSynth 2 in a way that suits your style.  Helpful in-app setup instructions tailored to your DAW get you up and running with ease, so you can spend more time making creative decisions.
Auto


Lock your vocals into key with real-time pitch correction, generate additional voices and harmonies, and seamlessly blend your module settings with VocalSynth's intuitive mix panel.

MIDI
Use MIDI signal to control your pitch and effortlessly create custom vocal harmonies as you play. This replicates the experience of playing a classic vocoder or talkbox!
Side chain
Rather than using the synthesizer within VocalSynth, pipe in your own audio to use as your "carrier" signal.  This lets you make any audio "talk" or create new outlandish sounds that would be impossible otherwise.
N.B.
Il prodotto viene consegnato sotto forma di licenza elettronica